Watch here for any competitions
Check out all the competitions in your "Kids Alive" comic
Entries for the Fantastic Fizzlebert have to be with Alan by Wednesday May 14th
Entries for the My Living World competition have to be with Alan by Wednesday May 21st
or you can send the competitions in by yourself by following the instructions in the comic
Can you find the Mystery Phrase somewhere on our website - it will be small and in green
A New Mystery Phrase for the period May 2nd to the 9th is now somwhere on the site. Happy Searching
Tell Alan what it is on Friday May 9th and you could win some sweets!
Remember - it is very small . .
Why not look on the Links page and find the Keswick Pencil Museum's Competition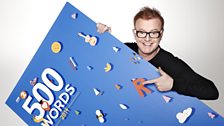 The link below will tell you all about Radio 2's amazing Writing Competition. click on the link to discover what you have to do
http://www.bbc.co.uk/programmes/p00rfvk1
then go to the links page on our website and the link there will show you how to enter.